S2BC's Top 20 Songs of 2005
2006 is only 12 days old but already thinks it's pretty hot shit. Front page news every day (and on every subsequent page etc.).

Well take this, 2006: it's time for a fresh little retrospective.

"Retrospectives" are deliriously enjoyable activities to engage in, and especially so when combined with "list-making". Throw a bit of "procrastination while at A Place of Employment" into the mix, and frankly the formula is virtually chucking a tanty for Nobel recognition.



Cf. Bell recognition

And so to "S2BC's Top 20 Songs of 2005".

And a caveat: As far as such lists go it is not possible to compete with the clever, expert ranking work carried out by such splendid online presences as the teams at Stylus and Slant, the ingenious I'm Always Right and the downright scarily knowledgeable Edward O. But in my own sloppy amateur fashion I'll be damned if I don't fucking love making this particular type of annual list. As Samantha Fox so memorably and without plagiarism opined on her seminal 1987 album "Samantha Fox" (a reference to herself, presumably), "If music be the food of love, play on." I am SO down with that.



"Right, so get 'on' with it (like my hat)!"

OK, Mr Dingo! But before we tear our collective eager fangs into 2005's fascinating matinée jacket of a chart, a few words by way of introduction.

Each annual compilation is fastidiously governed by a set of simple rules ("listed", of course, below).

1. All songs are eligible, including album tracks not released as singles and mp3 recordings of live performances.
2. Songs first heard one year but which receive a formal single release the next are eligible in either year.
3. BUT the same song cannot appear on consecutive lists.
4. So "Since U Been Gone" cannot be Number 1 two years in a row. :-(


The blueprint for the Best Song of This Decade and the Most Ineligible Song of 2005

5. Feverish clamouring to re-listen to a song over and over trumps artisitic merit – which is why, for example, "Biology" is ranked 16 and not 1 even though it is the most lyrically impressive and structurally challenging song out of the entire Top 20.

And that's about it really. So let's "play on".

20. Sugababes, "Push The Button"



Originally intended for Livinia Nixon, this deceptively simple tune was a lot of fun and very "now", and its video featured now-departed founding member Mutya Buena sliding up, down and across a variety of metallic phalluses merely weeks after giving birth (to a human child). Obviously it was too much too soon. Best/Most Insightful Lyric: "I know my hidden looks can be deceiving/ But how obvious should a girl be?".

19. Backstreet Boys, "Poster Girl"



I'm not a fan of the Boys. This is one of only two songs they have ever done worth the time of day – the other being "The Call" – and is a million times better than all three singles ineptly released by their record company from their recent album "Never Gone". Inexplicably infectious. Best/Most Insightful Lyric: "She could make alone look pretty". (Or perhaps it's "a loan".)




18. Juliet, "AU"



The opening track from her debut solo album and the sexiest ode ever to an internet domain suffix, Juliet's dirty, distorted, aggressively pulsating beat of a song is best heard late at night with optimal quality headphones. On any better known artist's album this would have been a monster dance success. Considering her single "Avalon" (featuring one of Jacques Lu Cont's most impressive and immediate remixes) is almost just as good, Juliet's under-rated and under-appreciated status is practically offensive. Best/Most Insightful Lyric: "It's all about the ins and outs of devotion/It's a game I was born and raised to play".

17. Fiona Apple, "Extraordinary Machine"



Somehow both sparsely and lushly orchestral, this is virtually an offcut from "Once More With Feeling", the Buffy musical episode. But of course it's unmistakably Apple – those lyrics are like an open letter directly to every one of her adoring fans. Best/Most Insightful Lyric: "If there was a better way to go it would find me/I can't help it, the road just stretches out behind me".

16. Girls Aloud, "Biology"



Widely considered the Girls' best or near-best offering, this is certainly the most impressively written song on their album "Chemistry", presumably named in honour of their former careers as doctoral research fellows in pharmaceutical science. Featuring brilliant lyricism (internal rhyme!) and more ideas than most other artists' entire careers (nine songs in one!), this is not, for me, as impressive or enjoyable as previous career-best singles "The Show" or "No Good Advice", but since both of those songs are irrefutably two of the best pop songs of the modern era, that is hardly a slight on the girls. NEWSFLASH: As reported by the vigilant I'm Always Right over here and here, the girls are coming here to promote the shit out of this song in their first serious tilt at getting anyone to give a fuck in this country. So prepare to give a fuck, dudes. More important than cancer research. Best/Most Insightful Lyric: "If we party anymore we'll start a fire of pure desire".

15. Girls Aloud, "Wild Horses"



Possibly about the drug Ketamine, this song sees the girls impersonate trains while singing about equines (and a lazy dog), which is all very exciting for the cause of Alternative Forms of Transport. (And Ketamine.) Best/Most Insightful Lyric: "He was clean out of feelings, nothing to say/Rings on his fingers as fake as the kisses he gave".

14. Girls Aloud, "Models"



The girls go from hinting at Ketamine to downright name-dropping crystal in this indescribably catchy gem. The song is a headfuck though and virtually indecipherable even after 200 listens. And yet 200 isn't even enough. The girls' principal lyricist, Miranda Cooper, deserves a slew of awards. Best/Most Insightful Lyric: Any one of the following: "Why don't you call?/Someone thinner's got you talking in code?", "Credit cards and lobster and crystal in rounds/Backdoors and bouncers only A list allowed", "You get your kicks like flies to shit/Buzzing round a model zoo".

13. Interpol, "Evil"



Ridiculously catchy. Listen to this twice and you'll wish everyone was named Rosemary. And like it or not, your brain will think they are. Best/Most Insightful Lyric: "Is this motion everlasting/Or do shudders pass in the night?".

12. Kaiser Chiefs, "Every Day I Love You Less and Less"



Beginning with a curiously retro yet utterly current synth riff that exhilaratingly collides with an undercurrent of frenetic percussion, this song never betters its opening 20 seconds but feeds off its own pretentiousness long enough to keep its head above water. And yet, despite genuinely puerile and unclever lyrics, it is all the better for the brash, unapologetic way its head remains up its own arse. Listening to this was some of the best fun I had all year. Best/Most Insightful Lyric: "It makes me sick to think of you undress". (Hello to All My Ex-Partners!)

11. Missy Higgins, "The Special Two"



One of Hailey Jensen's favourite bands, Missy Higgins tends to over-pronounce vowels like someone struggling with new dentures and is about as independent and self-made as Lachlan Murdoch. But bitch knows her way around a verse. Raw emotion and brilliant storytelling that rewards repeat listens. Best/Most Insightful Lyric: "The darkness helped until the whiskey wore away/And it was then I realized that conscience never fades".

10. Shannon Noll, "Shine"



A lyrical nightmare, this song is in my Top 10 against my better judgment, since the singer and alleged co-writer is truly vile. And yet I'm not ashamed to include it, because what it lacks in wordplay it makes up for in impressive hooks. This is the best single yet by a former Idol contestant in this country. Lyric Most Indicative of Performer's Capacity for Complex Thought: "Get up, get out, get out, get out".

9. Sterephonics, "Dakota"



Another dreadfully basic song on a lyrical level, this song's merit lies in its creation of an entirely new sonic universe of melancholy. There's so much lament going on here that you virtually feel the strain on Kelly Jones' somehow-still-functional larynx. Best/Most Insightful Lyric: "You made me feel like the one."

8. Gwen Stefani, "Hollaback Girl"



Its status as both a pop cultural phenomenon and founding treatise for a new thread of environmental science is already well documented. Even without the bananas, the rhythm and percussion of this track have the force of a mantra. Best/Most Insightful Lyric: Obviously, "This shit is bananas: B-A-N-A-N-A-S". Genius.

7. Rachel Stevens, "So Good"



As gritty as fine china and about as edgy as a Swiss ball, it's easiest to buy Rachel as a singer when she's wearing her android heart on her sleeve. And she's never been better than in this magisterial electronic ode to soy milk. Pure dance pop of the highest non-Girls Aloud order. Not a patch artistically on preceding single "Negotiate With Love" but darker and sexier. Comes with a health warning – that opening series of rapid inhalations by Rachel is alarmingly difficult not to replicate on the treadmill, to one's detriment. Best/Most Insightful Lyric: "I'd like to watch you suffer ever so slightly/You'd better watch your back, you'd better beware".

6. Kanye West, "Gold Digger"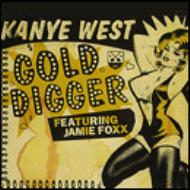 Another month and this would have topped the chart. An almost impossibly busy, enjoyable, cacophonous delight underpinned by the most irresistible bassline of the year. And usually I sho 'nuff hate me most o' dat RnB shit. Fo shizzle. *tilts cap visor slightly to the left* Best/Most Insightful Lyric: "I know somebody payin' child support for one of his kids/His baby momma's crib's bigger than his".

5. Natalie Imbruglia, "Shiver"



Not much to say about this one. A great song on one of the shittest, most disappointing albums of the year. The decline is unsalvageable and has its genesis in the misguided release of "That Day" as first single from the sophomore album. May she rest in peace on White Lilies Island where she belongs. Best/Most Insightful Lyric: "With you, I'm running running running/Somewhere I can't get to" (e.g. an album chart in her home country).

4. Natasha Bedingfield, "Unwritten"



My guilty pleasure. Clearly nothing to write home about (ha) and frankly the whole writing analogy is wearing a little thin but this was quite simply one of the most played songs of the entire year for me, even if the contrived lyrics expose Natasha's alleged love of Byron, Shelley and Keats as questionable to say the least. Best/Most Insightful Lyric: "I'm just beginning, the pen's in my hand, ending unplanned".

3. Alicia Keys, "Karma" (Karmastition Remix)



This remix was leaked to radio and dancefloors in late 2004 but had an official single release date in Australia of 24 January 2005. I'm conveniently glossing over the fact that that release date never saw the light of day because this fucking amazing fusion of "Karma" with Stevie Wonder's "Superstition" is a masterstroke of such awe-inspiring imaginative genius that for the first two thirds of 2005, in my view, it had no equal. Best/Most Insightful Lyric: "What goes around comes around/What goes up must come down/Now who's cryin', desirin', to come back to me".

2. Patrick Wolf, "The Libertine"



Piano and gentle strings segue into goosebump-inducing initial drumbeat which cedes to HORSES CLIP-CLOPPING AWAY (from Girls Aloud)! Amazing. This was recorded in the middle of nowhere (e.g. where you find horses) and you can tell. Industrial, aggressive, testosterone-driven and unforgettable, this was also 2005's most scathing attack on the cult of celebrity. Best/Most Insightful Lyric: "And in this drought of truth and invention/Whoever shouts the loudest gets the most attention".

1. Madonna, "Hung Up"



Thank Christ. Madonna trumps all-comers. Gets better with every listen. One of the best ever uses of a sample. Etc. The end. Best/Most Insightful Lyric: "Time goes by so slowly for those who wait" (for the end of this list).

And that, dudes, is that.

For fellow musical list-lovers, check out the inspirational list-making vision recently underway at this fantastic burgeoning pocket of the internet.
Thanks for that, 2006. Carry on.